2019 is a very exciting time in e-commerce. There is so much innovation and automation on the horizon that it just makes me happy.
Probably the biggest area of interest for me is:
1. Artificial Intelligence (AI)
AI is defined as the development of computer systems able to perform tasks that normally require human intelligence.
It really is everywhere already. One of the simplest examples is on Facebook where you upload a photo of friends and they get automatically tagged in the photo. That is artificial intelligence replacing a task you as a human would do that is now being done for you by AI.
Here are ways AI is impacting e-commerce:
• Customer personalization – Using data science to analyze buyer behavior, preferences, feedback, and characteristics. Taking that data and using it to predict behavior and deliver a unique, personalized experience for the customer to help increase engagement.
• Automated Marketing – capitalizing on customer behavior and processing your audience data to auto-optimize millions of experiences with precision. Being sure to pinpoint when to market at the right time and right messaging.
• FB Messenger & Chat Bot support – Facebook Messenger already has about 1.3 billion monthly active users worldwide. Not registrants. Not people who got forced to download it when Facebook released it.
Now companies can pick up the ball they dropped when they tried building mobile apps for their businesses. Now the easiest way to create a mobile optimized shopper and customer support experience is with Messenger and Bots.
2. Omni Channel
• BOPIS – Buy Online Pick-Up In Store is transforming the convenience factor for both traditional retail and e-commerce shoppers. In 2018 there is now compelling evidence that Click and Collect is a mandatory fulfillment model for retail and grocery e-commerce.
As convenience becomes more important in the competitive landscape look at these number… Research by Cybertill as reported by Forbes revealed that 21% of shoppers use Click and Collect for half (or more) of their purchases.
In France, Click and Collect (known as Click and Drive) already accounts for 5% of the countries grocery sales, and is expected to reach 10%.
• Returns are the future competitive arena – A few years ago, it was all about fast shipping. Today is a race to simplified returns. New studies find that a streamlined e-commerce returns process actually boosts profits.
Hassle-free returns are an opportunity to give better customer service, increase loyalty and sales and a 40 percent possibility of gaining second-chance sales from customers making a return.
3. Mobile Commerce
• The Power of the Landing Page – That stand-alone web page you create for the sole purpose of getting visitors to take action, is NOT the same thing as a product page!
This page can reside on the same domain as your store, but it has a much-targeted purpose, it is there to make the customer take action (buy, sign up, download, etc.). These pages are where targeted traffic is driven for conversion. Everything on these pages focuses on just one thing, the goal of conversion.
Landing pages are becoming the preferred choice of the two because of their ability to drive more conversions, generate more leads, and ultimately, deliver high ROI.
• Streamlined checkouts – A number of users of Amazon's mobile applications have recently reported seeing a new checkout option that replaces the click on mobile with a swipe instead.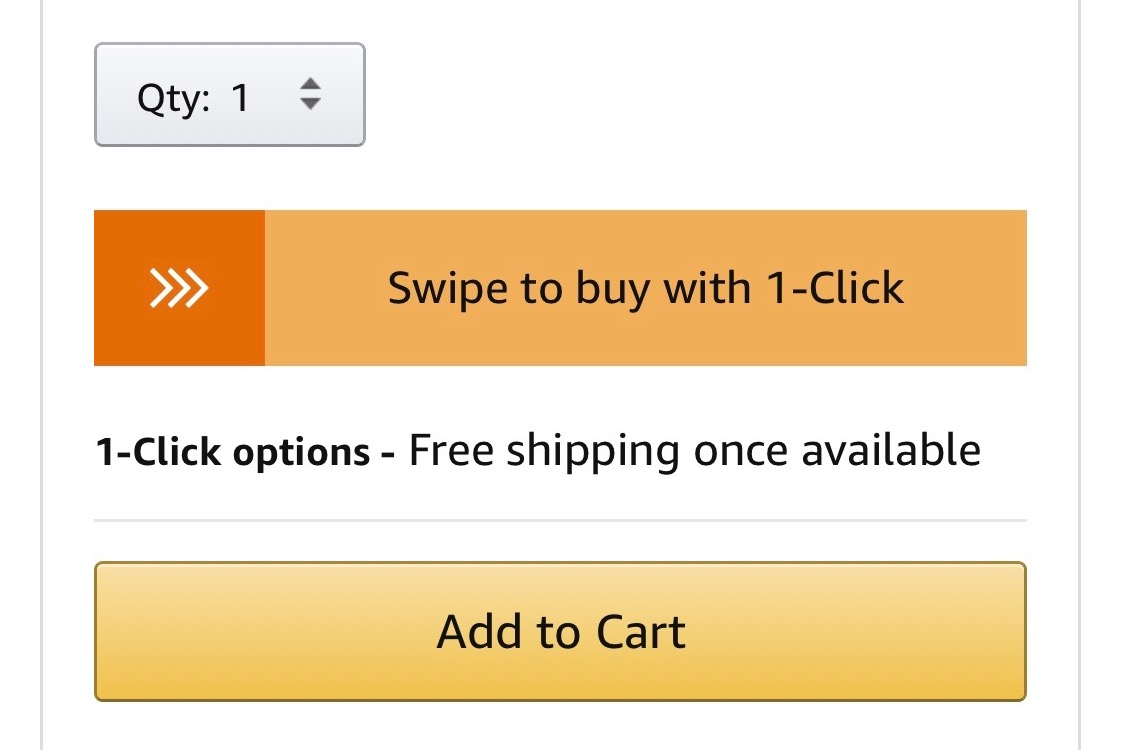 As if that one click is so laborious, Amazon is testing the SWIPE instead of a click button. This may just be a simple text, but you must take into account that Amazon is training our e-commerce customers.
This may seem minor in the grand scheme of things, Amazon leads the market when it comes to the development of new ways for people to shop. They are constantly innovating and swiping verse click is probably an idea whose time has come.
Also read: Top 10 Ecommerce Challenges to Look Out For in 2019
Source: https://www.bridge-global.com/blog/the-3-things-i-got-my-eyes-on-in-ecommerce-for-2019/