You don't need me to spout statistics at you to know that the holiday season is a big deal for online sellers.
So I won't.
Instead, I'll get right to the point:
Instagram can be one of the most effective platforms for you to drive sales, provided you know what you're doing.
So let's get into it.
Here are the top Instagram marketing best practices for the holiday season, each one with an example from a top ecommerce brand.
Use urgency
My top recommendation for holiday marketing is always to run a marketing campaign or product line exclusively for the holiday season.
There are two reasons for this:
Rarity increases the subjective value of an object. The value of a car, for instance, increases massively if there were only 10 made.
Limited time increases the subjective value of an object: If your prospective customers like something which is only available for a week or two, they'll lose out if they don't buy.
Here's an example of a holiday Instagram post which uses urgency, from Everlane: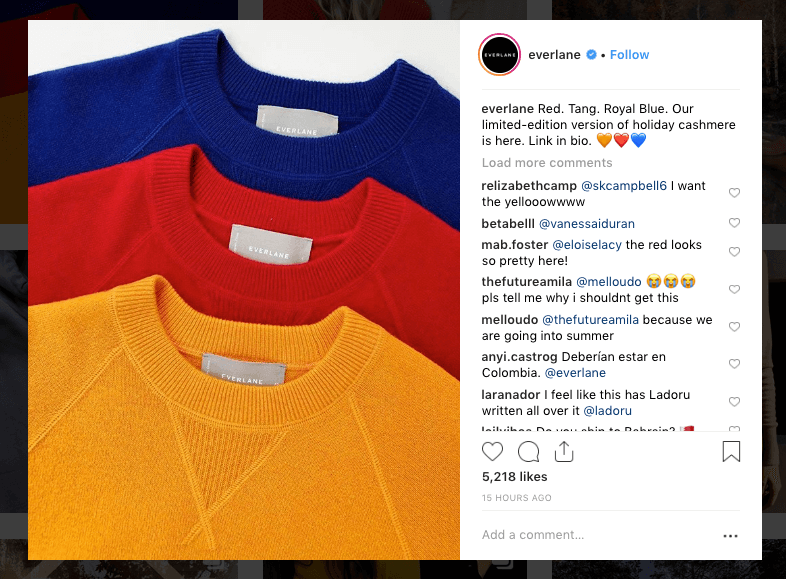 TOP TIP FOR HOLIDAY MARKETING ON INSTAGRAM:
Notice that this Instagram post doesn't really have much to do with the holidays? Everlane simply threw a "holiday" descriptor on their cashmere sweaters. It just goes to show that you don't have to, always, be super creative. During the holiday buying season, you can get away with anything so long as you call it festive.
Use a quote from an employee or customer
Quotes have a serious effect on prospective buyers' trust in you. They reduce the whole "faceless corporation" element – something which turns people away.
And that's especially true on Instagram, where people want to see uniqueness. They want to see difference.
Here's an Instagram post example from Teva, a company who shows their uniqueness, and sells sandals, through quotes from their trendy employees and customers: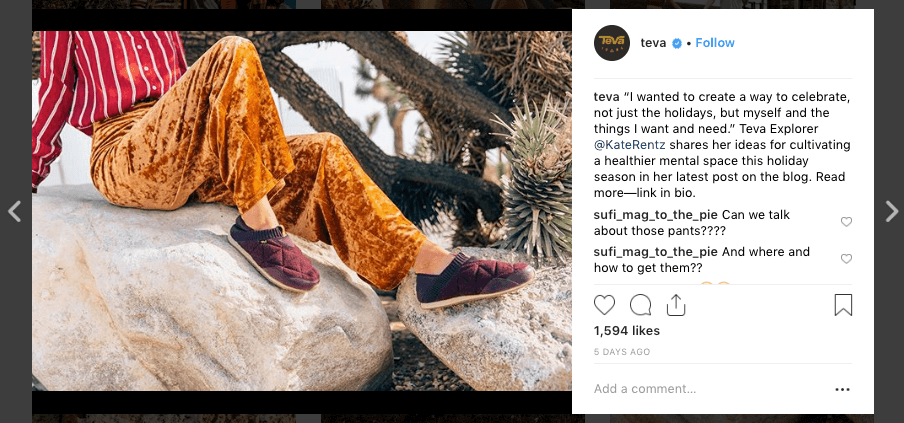 TOP TIP FOR HOLIDAY MARKETING ON INSTAGRAM:
To truly get the most out of Instagram, you need a strategy to generate and intelligently-utilize user-generated content.
Get inclusive
The holiday season isn't just about Thanksgiving and Christmas. It's also a time of celebration for many other cultures.
Here's a simple Instagram post example of Fossil watches celebrating Hanukkah on Instagram with their Jewish fans: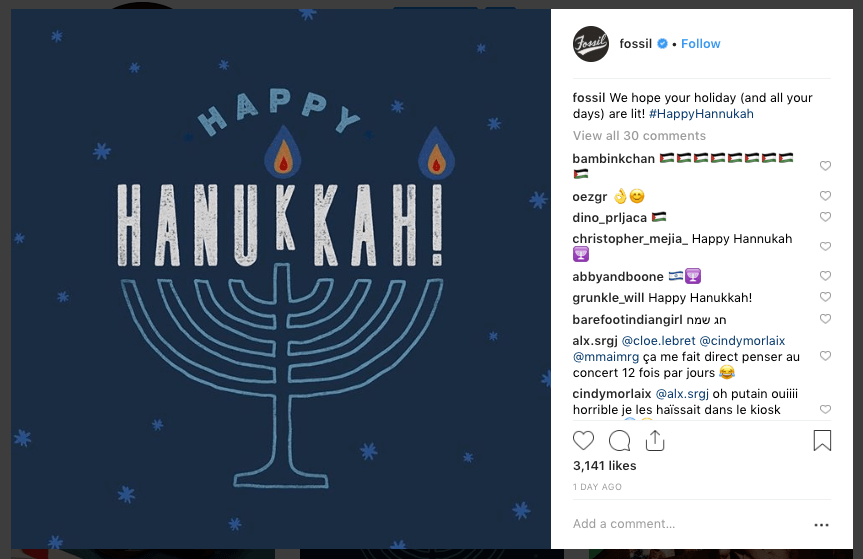 A few celebrations to add inclusivity to your Instagram posts:
Krampusnacht (The Feast of St Nicholas) – 5 December
Bodhi Day (the day that the historical Buddha experienced enlightenment) – 8th December
Solstice (longest day of the year) – On or about 21 December
Pancha Ganapati (A five-day Hindu festival celebrated in honor of Ganesha) – December 21 through 25
Hanukkah (Jewish celebration of light) – Anywhere between late November and early January
Kwanzaa (Pan-African festival celebrated in the US) – 26 December through 1 January
Lunar New Year (End of winter in the traditional Lunar calendar among Chinese/Vietnamese/Korean/Mongolian/Tibetan/Japanese cultures) – late January to mid February
Tie products into celebrations (A.K.A. Get creative!)
Do you have a product which doesn't tie directly into the holiday season?
Perhaps you sell auto parts, or software?
Unfortunately you're going to have to get creative.
My recommendation is to, genuinely, hold a brainstorming session with your company's most creative people. You don't want to miss out on the potential sales windfall the holiday season can yield, so you'll need to figure out how to connect your business with your prospective customer's holiday needs.
Here's an Instagram post example from Fossil watches, showing how they've connected their Gen4 watch with holiday parties: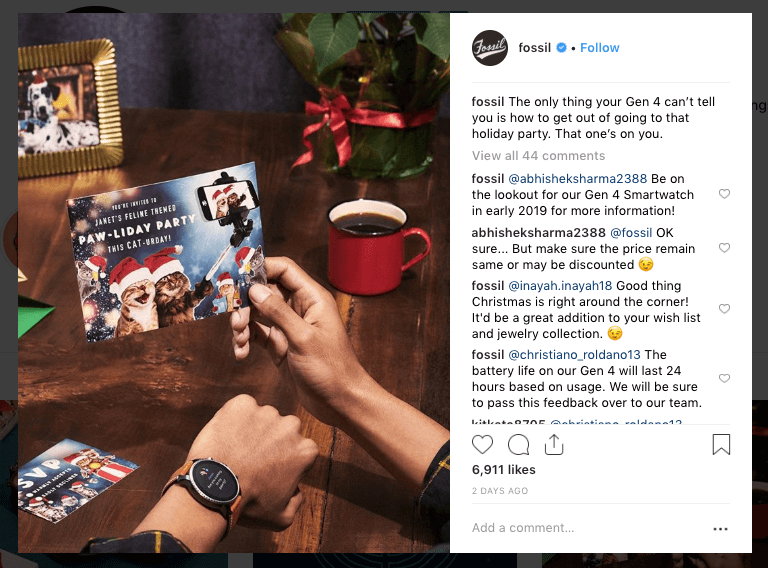 A few ideas:
Selling software? Focus on how your tool helps to address a specific holiday-related pain point or goal.
Selling auto parts? Focus on people traveling for the holiday season.
Selling a B2B service? Focus on making the office environment an easier, more relaxing place (enabling people to be less stressed around the holidays).
Get creative, and share your Instagram or social media ideas in the comment section so other readers can find the same success you have!
Create a gift guide
Gift guides are a fantastic value-add for your prospective customers. You're not just selling them something, you're helping them get through a stressful time.
Trying to figure out what you're going to buy for your loved ones is always a challenge (especially if your loved ones are all adults…)
Creating a gift guide on your website can be the answer. Consider creating one for each segment of your target market then allow your prospective customers to choose which one they're interested in.
If you're effectively turning website visitors into business leads, note down which segment they engage with (by tracking which URL they visited). This enables you to target them more effectively with email down the line.
Here's an Instagram post example from Herschel, promoting their gift guide: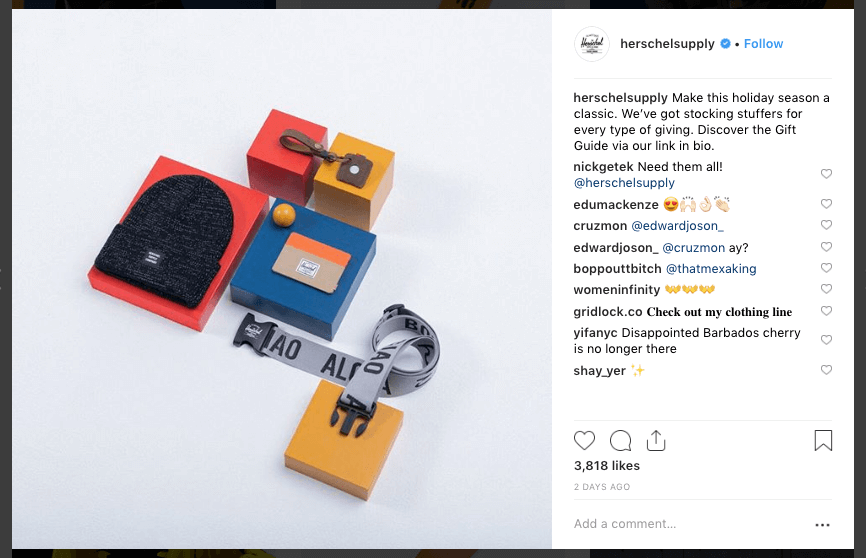 TOP HOLIDAY MARKETING TIP FOR INSTAGRAM:
Notice how Herschel has put their products on colorful blocks? This is a great strategy for your product images, if you don't have a model. Bright color does wonders to draw the eye of your prospective customers on Instagram.
Here's another example of an Instagram post promoting a gift guide from Fjallraven: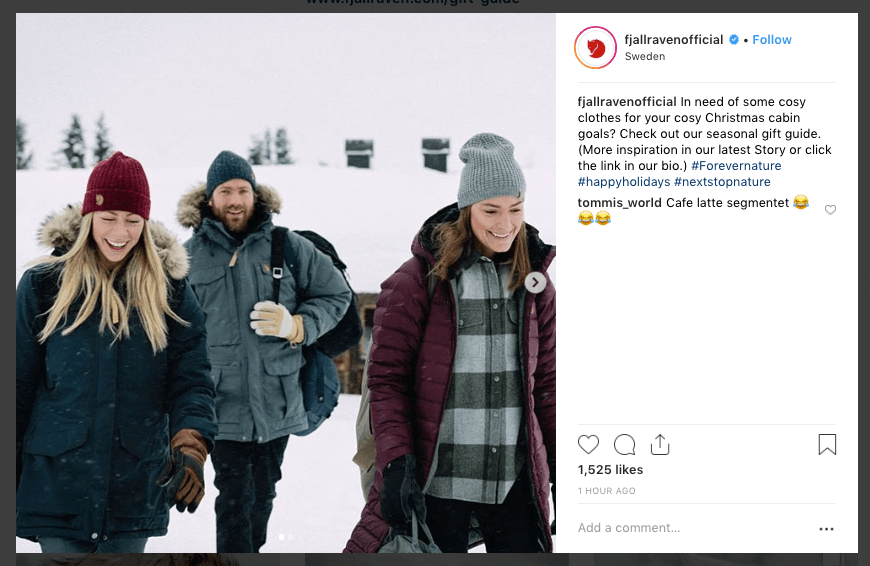 Run a holiday Instagram contest
People are spending more money around the holidays than any other time of the year: heating bills, feeding the family horde, ski trips and all the rest.
And that's before we talk about presents.
Gallup reports that "US adults estimate that they will spend approximately $885 on gifts this year."
So perhaps now would be a good time to save your prospective customers some money?
Holiday instagram contests are the most effective way to target people looking to do just that.
Here's an example of a simple Instagram contest from Eileen Fisher: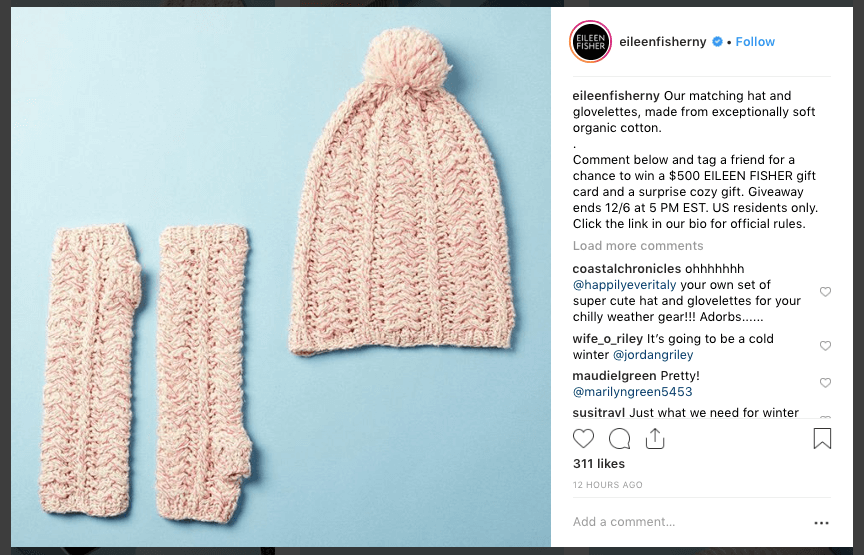 TOP TIP FOR HOLIDAY MARKETING ON INSTAGRAM:
To get the most out of an Instagram contest, it's better to run one off the platform and send people to it. You can incentivize sharing more effectively, and (most importantly) get the contact information from prospective customers.
Tap into Travel
People aren't just buying presents this holiday season. They're also traveling – escaping the cold, visiting family, soaking up the rays on a beach with a drink in hand.
Ahh…
For Instagram marketers, though, this also means you have a whole different angle from which to engage your prospective customers.
Here's a Instagram post example from Anthropologie, showcasing their summer dresses in the heart of winter: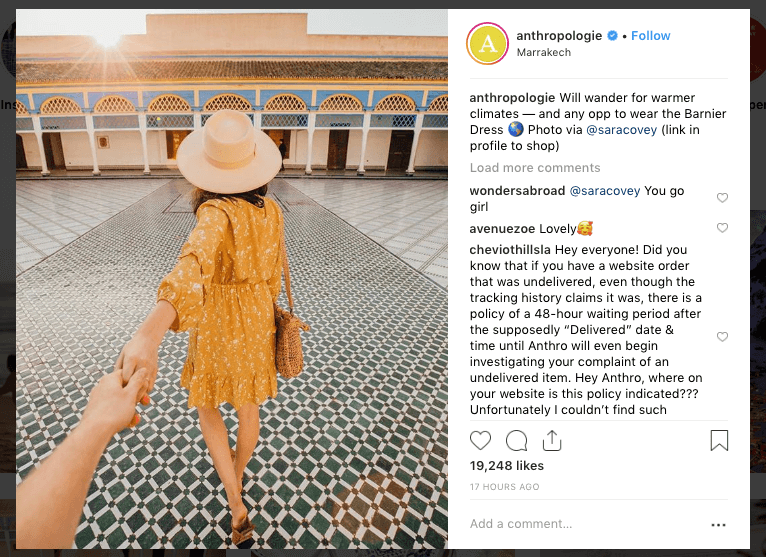 People are just as interested in seeing photos of the beach as they are in seeing photos of a cozy, snowy cabin. If your product lines fit more into summer than winter, focus on marketing to people who are going on vacation.
TOP TIP FOR HOLIDAY MARKETING ON INSTAGRAM:
You can target prospective customers with an Instagram ad based on their interest in traveling during the holidays. Target by Interest + (common winter escape destination) like Florida, California, Arizona or Las Vegas. Or, go broader and target by "Frequent Traveler:"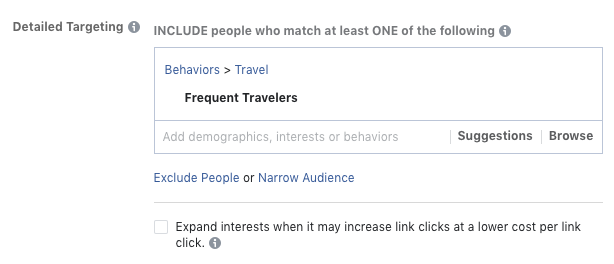 Babies and Pets
This isn't a best practice just for the holiday season. I honestly recommend you use babies and pets in your Instagram photos every day of the year.
Though that might be a bit weird. Alright, every other day.
I don't care who you are or what business you're marketing, using cute children and animals will get your business more attention than you can possibly get with a super creative promotion idea.
Here's an example of this Instagram best practice being used by the Honest Company: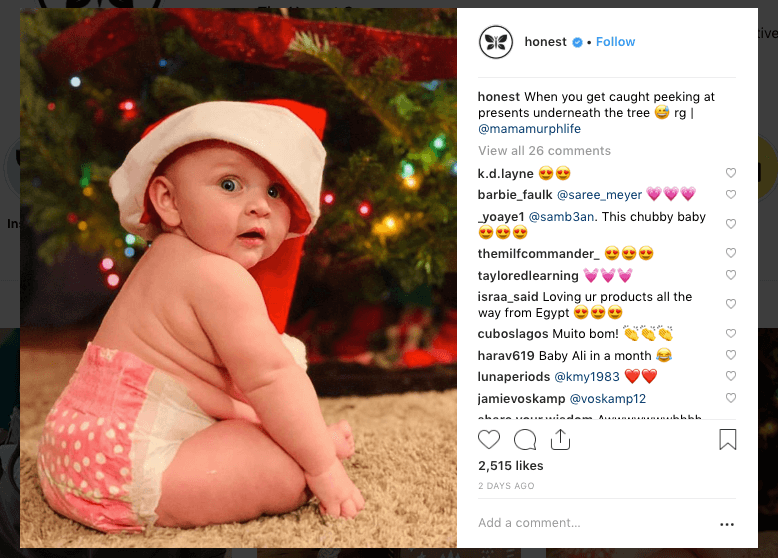 You don't have to be a baby-oriented company, like Honest, to tap into the adorable-ness of babies or pets. Here's an example of how stationery company Paper Source does it: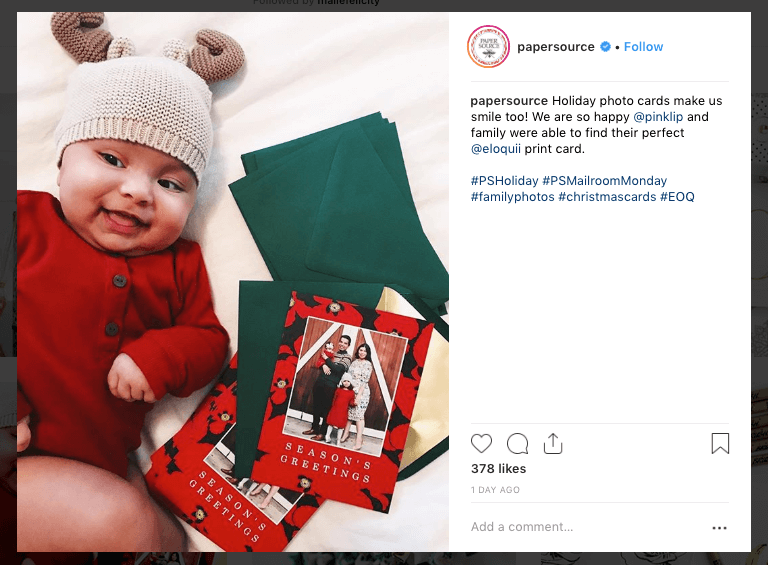 Final Thoughts
Hopefully these best practices and examples have inspired you to find success on Instagram this holiday season.
Have you tried any of these best practices before? Do you think you'll try any of the strategies?
Don't hesitate to reach out in the comment section to share your experience or ask questions about Instagram marketing!
Also read: How search engine optimization is helping the Ecommerce industry
Source: https://blog.wishpond.com/post/115675437749/holiday-instagram-marketing