Online eCommerce sales have tripled in the last few years especially in the US and are registering similar growth all over the world.
Modern smartphones have contributed a great deal to the growth by turning the process of online ordering into child's play. The growth will not slow down any time soon as eCommerce breaks new barriers.
Every quarter eCommerce is setting new trends in growth. Recently, Alibaba's Single's Day sales rose to $31 billion dollars.
In the year 2017, eCommerce was responsible for 2.3 trillion in sales and is expected to reach 4.5 trillion by the year 2021.
That together with the fact that due to so much automation it's easier than ever in our history to make home deliveries and people are using that fact to their benefit more than ever.
Let's look at the ways through which you can immediately lift your ecommerce sales.
1. Integrate the power of Instagram and Facebook into your eCom business
Instagram has time and again showed why it's a total beast. Compared to any other social media platform the channel has the highest Average Order Value of $65.
Again, 75% of Instagram users are action takers like they visit a website after seeing an advert on the channel or check out the profile of the person behind the viral post.
Second is Facebook with its reach. Facebook despite declining usage among teens sports highest user engagement with the highest user base.
Coupled with that, Facebook also sports the highest number of active users, the one channel that results in the highest number of online sales and as such Facebook is the most preferred option for eCommerce marketers. That's a lot of potentials before the flame ebbs.
2. Sell more products with social proof
Other people's opinions and reviews can boost confidence in visitors minds.
You can display a tiny notification under your site indicating the products being sold.
With products, you might use a recommendation engine to show what others purchased just like Amazon does.
Display countdown timers with a number of items left.
Use testimonials prominently on product pages.
How to do this?
There are several apps—Sales Pop, Notify and Sales Notification by MPS to name a few. There are additionally several plugins for WordPress users too.
Notify app shows all current visitors a message in the site footer when someone purchases a product. If the purchases happen one after other that's shown or past purchases are displayed depending on the sales data available.
This is coupled with relevant information on the customer but not too revealing like information like product purchased, city, state and so on.
3. Don't abandon abandoned carts
Abandoned carts are free money on the table and there's a lot that could be done to arrive at the reason behind cart abandonment upon which you can turn those to cold hard cash.
Fears and disappointments top the reason behind cart abandonment.
Shipping rates are pointed out to be the number one cause behind cart abandonment.
Other times carts are abandoned because the checkout process is too complicated for the user to make sense of.
Don't make them register if that's not too important. Many people cite Amazon as an example but Amazon being Amazon, they can get away with that.
Cart recovery emails can come to your aid. If you send cart abandoners emails after a few hours showing items left in the cart with additional discounts it makes for a compelling reason for them to come back and shop.
4. Limit the number of choices
Even the simple act of purchasing a toothpaste can be overwhelming for people. Some are for people with sensitive teeth, some combine the formula for plaque and sensitivity, some for the cavity, some for enamel protection, there are those with and without salt and many flavors ranging from mint to strawberry.
Taking on this apparent multiplicity of choices— a famous jam study was conducted which Sheena Iyengar referenced in her book called the Art of Choosing.
The famous jam study, conducted by Professor Sheena Iyengar and referenced in
In a grocery store shoppers were presented with two stations each with 24 flavors of jam and one with just 6 options. Of the shoppers who tasted from the cart with 24 flavors, only 3% went on to purchase jam. Of the second group, 30% purchased a jam.
A 300% increase in conversions merely by reducing choices.
In an A/B test conducted by Whirlpool, they began by testing simple changes in an email campaign for one of their products on their eCom store.
The original email: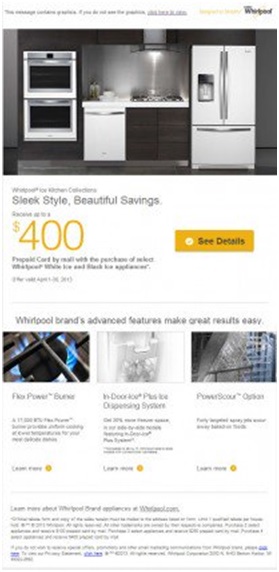 Here was their treatment: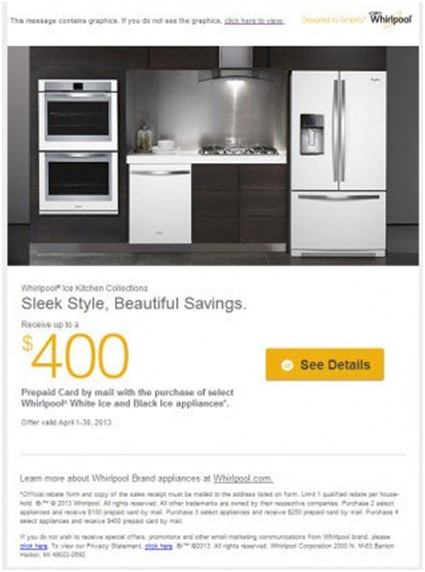 If you notice they applied the concept of minimalism cutting out clutter and eliminating the secondary call to actions.
The focused single CTA improved clicks by 42%
The choice could be the root of all unhappiness.
5. Cut down distractions-Removing navigation menu increases signups by 100%
Yuppiechief a startup in wedding registry sign up niche wanted to improve signups to their site.
To do so they've tested almost identical pages but one sans the navigation bar at the top of the page.
Original page (with navigation)
Page without navigation- the variant
The hypothesis was simple—without a navigation bar visitors to the page would have fewer distractions to deal with and hence would improve conversion rates.
The results weren't surprising in the outcome but in the quality of the outcome. The page without navigation bar resulted in twice as many conversions as one with.
Conversion rates previously at 3% took to 6%. A 100% increase in conversions by eliminating distractions you can convert more people.
Final words:
What do you think of our tips for lifting conversions on Ecommerce stores? Just because many stores sport a dismal conversion rate doesn't mean you've to suffer the same fate.
Also read: Ecommerce Statistics for 2019
Source: https://thenextscoop.com/lift-ecommerce-store-revenue/