Shopping Carts Are External Memory
A shopping cart is not just a shopping cart: it's also a form of external memory, a tool that allows users to remember and easily access items of interest. In our recent research across 49 ecommerce sites, we frequently observed shoppers using the cart as a holding area to compare items and save products while they continued to shop or for later sessions.
In today's rich ecommerce landscape, finding the right product takes time and effort. Thus, it makes sense for users to want to avoid redoing the same work. However, using the shopping cart for saving items of interest occasionally conflicts with the normal functionality of the cart, which is to hold items for the currentpurchase. For example, in our usability testing, some participants had items in their cart from previous shopping sessions; although they were not planning to purchase them at that moment, they also didn't want to abandon them. In these cases, being able to save those products for later consideration proved critical. Site-provided tools such as wishlists, Save for Later options, or Favorites lists were used in these situations.
Wishlists vs. Favorites and Save for Later
Although many sites in our study featured wishlists that allowed users to save items for later, people were reluctant to use them because they expected a high interaction cost for setting them up (for example, due to having to register). Instead, most participants preferred to save products for later by adding them to their cart. Furthermore, the label Wishlist implied to users that its primary purpose was for sharing gift ideas with others; many thought that doing so will be perceived as greedy or inappropriate, and neglected to consider other uses for wishlists. Names like Favorites or even My List did not have the same greedy connotation, although they also carried expectations of tiresome registration and setup.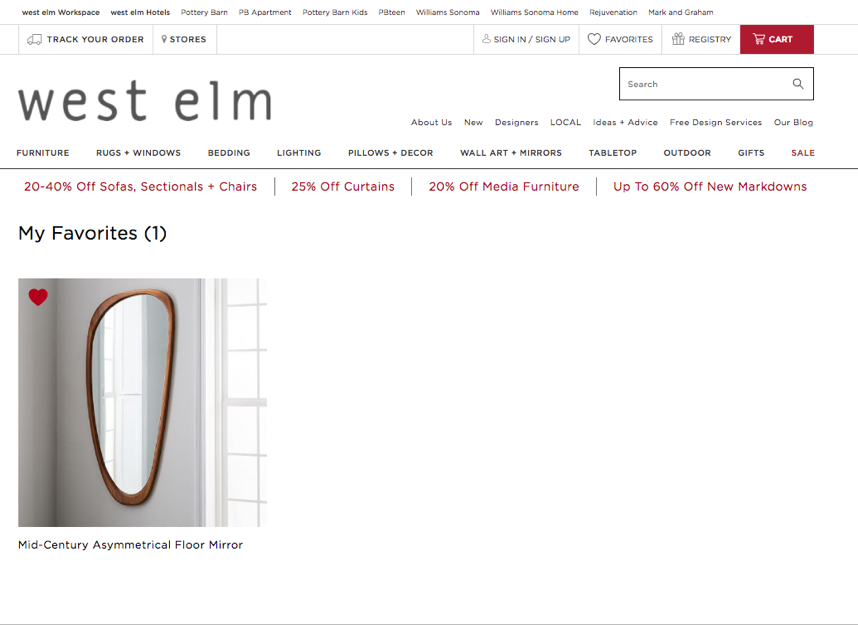 Lists vs. Shopping Carts
Wishlists are often made available in the page header (next to the cart button) and on product pages (often near the Add to Cart button). These spots make the feature easy to discover and access; however, our study participants tended to add items to their cart first. Our users' mental model for these lists was that they implied a higher level of commitment, even if the lists were private; adding to a list meant "I definitely want that", whereas adding it to the cart meant, "I might want that."
To cater to this mental model, some sites include links to let users save items directly from the cart. This method is a handy way to separate products for later consideration from items to be purchased right away.
Save for Later Must Have High Discoverability and Low Interaction Cost
A Save for Later feature can prevent users from discarding items that they won't  purchase right away. However, if Save for Later leads to a lengthy or confusing process, it will either be ignored, or will derail the checkout for the current purchase. An effective Save for Later feature in a cart must be:
Discoverable (users must be able to notice it without seeking it out)
Clearly labeled (with strong information scent as to what exactly it will do)
Transparently easy to use (ideally the label sets expectations with the user that the feature is easy to use)
Low-effort (users won't need to register or name their list in order to save an item)
Macy's iOS native app hid the Move to List and Remove options in the cart, requiring a swipe gesture to access them. Hiding these features under a swipe makes them undiscoverable for many users. Macy's mobile website, however, made both of these options visible in the cart.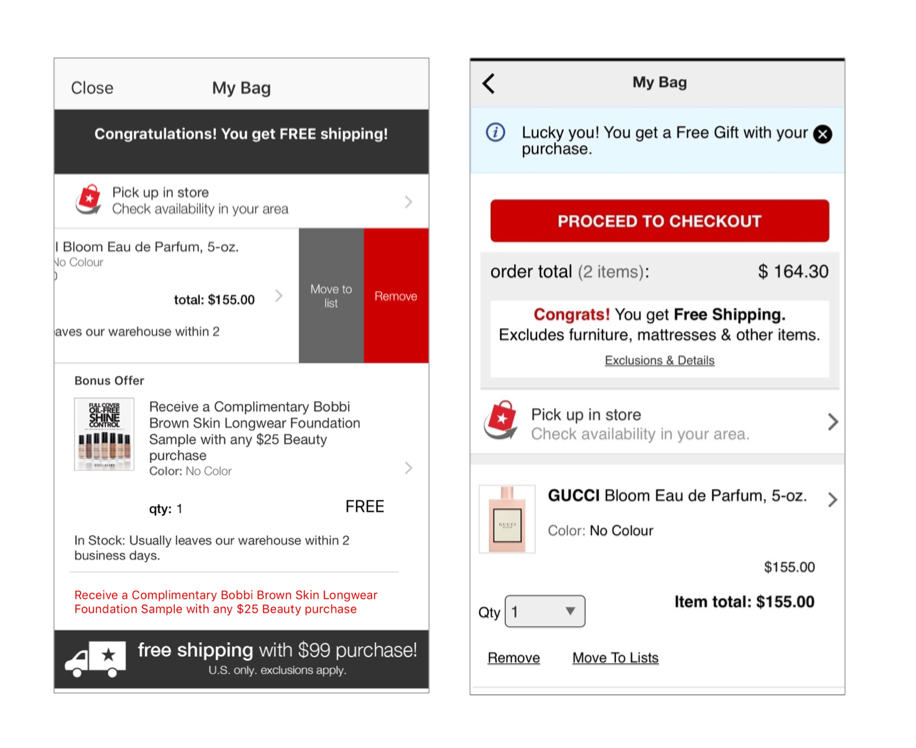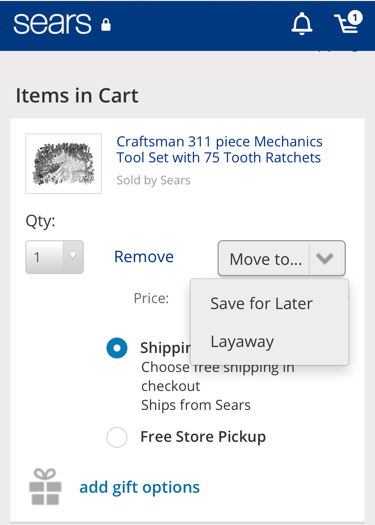 It's strongly recommended not to require users to register or log in to use the Save for Later function in the cart; not only do shoppers avoid registration as much as possible, but even if they do begin to register in order to save an item for later, that process derails the checkout process.
Wayfair.com let users save cart items for later without creating an account or logging in. The link Save for Later appeared under the Quantity field. Clicking the link moved the item to an area at the bottom of the shopping-cart page, labeled My Saved Items. This feature did not require registration. However, its position low on the page (below the fold on many laptops) made it difficult to discover. One study participant who had clicked Save for Later could not see the My Saved Items section and  tried navigating to the Saves link in the utility navigation. But that feature did require registration to access. The user thought that her saved items were now gone, and she moved on to a different, competing site instead.
Summary
The shopping cart is not only a place to store items until purchase: it is a comparison table, a reference, a scrapbook for ideas. Thus, contrary to the modern ecommerce teams' beliefs, adding an item to a shopping cart doesn't necessarily mean that the item has a high chance of being purchased right away. People often use the shopping cart as a tool to help them make purchasing decisions, and the shopping cart is as much a sandbox for consideration of products as it is a direct means to purchase. Keep that in mind if you're tracking shopping-cart abandonment as one of your analytics metrics: an item left in the shopping cart may actually be leading to a purchase later on.
Users often wish to purchase only some of their cart's contents right away, but don't want to lose all the work that went into finding other products of interest. Provide an easy-to-find feature to save items for later, label it something else than "wishlist," and don't block access to it with login walls.
Also read: 5 Content Marketing Ideas for December 2018