Let's chat about your homepage.
1. Always Show The Search Bar So Visitors Never Get Lost.
76% of users want to be able to easily find what they need. (Really, who doesn't?) This comes before aspects like website design and a "cutting edge interactive experience."
In other words, your search bar is a huge priority. Don't neglect it!
If you want high conversion, make that search bar prominent on both your mobile and desktop sites. Also, be sure that the search bar is static so customers can use it no matter where they are in your online store.
No matter where you are on the website, Target's search bar is static (and highly visible) on the top of the page: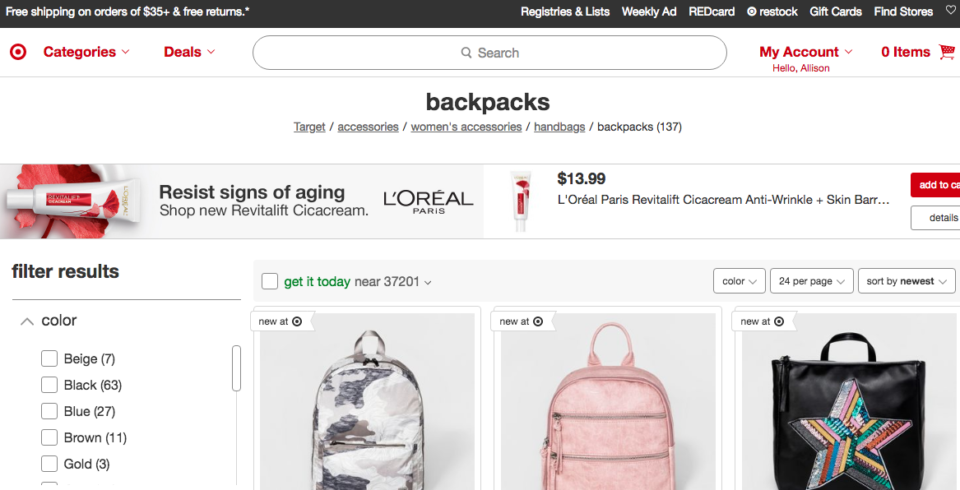 2. Show Browsing History for Personalized Suggestions.
The online shopping experience is much more personalized than it used to be. These days, more access to data allows e-commerce companies to tap into what their customers truly want.
56% of online shoppers are more likely to return to a site that recommends products.
We suggest posting product recommendations based on customers' individual searches directly on your home page.
How's this done? More than likely, you'll need custom code. Unless it's built into your website's theme or CMS.
3. Display Your Business Address and Support Number.
Contact info on your homepage is a great way to build credibility with your customers. It gives your customers the comfort in knowing that you are available and happy to help with their needs.
If you're searching for the golden example for customer availability, look no further thanZappos. Notice how their customer service number is displayed prominently in the top left hand corner?
Zappos CEO, Tony Hsieh, states:
We've found that on average, our customers telephone us at least once at some point, and if we handle the call well, we have an opportunity to create an emotional impact and a lasting memory. We receive thousands of phone calls and e-mails every day, and we view each one as an opportunity to build the Zappos brand into being about the very best customer service.
Contact info on your homepage is an open door to long-lasting customers. Don't waste this valuable opportunity!
4. Include Social Proof
Social proof is the, "idea that consumers will adapt their behavior according to what other people are doing."
In other words, it's leveraging your customers into one of your greatest advertising tools.
And guess what? It actually works.
Visitors referred by bloggers and fashion influencers generated a 200% higher conversion rate than people who were referred to the site by a paid ad.
88% of online shopper trust online review as much as recommendations from somebody in their circle.
When you place social proof directly on your homepage, you're establishing that credibility right from the start.
Here are some companies that do a great job of displaying social proof directly on their homepage:
Amazon places product reviews directly on the product page to help customers make a purchase decision.
InVision (a digital product design platform) shows social proof through the strength in numbers approach. If 3 million people have already signed up, it must be good.
5. Make a Sales and Best-Sellers Section
Studies show that when you clearly display a best-sellers link and use a specific color to make it stand out, conversions increase by 30%.
Just as a server at a a restaurant tells you about the most popular dishes, a best-seller section guides customers to the products they are most likely to benefit from.
Similarly, a sales section give customers a direct path to what is most enticing — your products at a discounted price.
Take a look at how Banana Republic includes their sale section at the top menu and highlights the text in red.
Source: https://thomasgbennett.com/ecommerce-best-practices/