Let's start off with some general website best practices and e-commerce trends you can use on your site.
1. Use Free Shipping to Increase Conversions 54% (And Show Shipping Costs on EVERY Page).
Free shipping used to be nice to have. Today, however, it's practically a requirement.
Let me explain:
Roughly 28% of shoppers will abandon their shopping cart if presented with unexpected shipping costs.
Obviously, free shipping isn't always possible. You need to be able to make a profit! So here are three strategies to implement free shipping on your store without going into the black:
Raise your prices. This sounds like a no-brainer, but really – you can raise your prices to make up for the cost of free shipping. If nothing else, you can test it on a select few products. If it doesn't work, try something else.
Offer free shipping at a certain order price. For example, free shipping on all orders above $50. This is a double whammy – you get a higher average order value (AOV), and you get higher conversions from the free shipping.
Offer free shipping on certain bundles. For example, when a person adds an item to their cart, have a screen pop up to offer an additional (and relevant) item. If they add that to their cart as well, they'll get free shipping. Again, win-win!
In addition to offering free shipping, you should display shipping costs (and any additional costs, such as taxes) on every page of your website.
Why?
Because the #1 cause for shopping cart abandonment is unexpected costs at checkout.
This is reverse price anchoring, which is a concept I'll explain in best practice #13. Basically, when people see a number higher than they were expecting, they bolt. Not good.
The second highest reason people abandon cart? Lack of trust. So let's fix that.
2. Add Trust Badges (But Only The RIGHT Ones).
Trust badges, like the ones below, show website visitors you're secure and won't steal their money. Obviously, this is a good thing.
In fact, trust badges and security seals have been shown to increase your e-commerce sales by 42%!
But only certain badges work.
Research studies by Blue Fountain Media found that VeriSign trust badges are far more trusted (and increase conversions more) than any other trust badge. Take a look: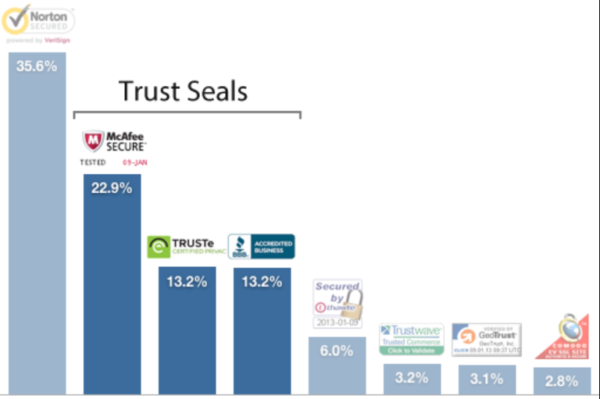 That one was easy! Next…
3. Give Your About Page Some Love (52% of Your Visitors Will See It).
Your about us page is actually one of the most visited pages on your website.
In fact, people will often decide whether or not to buy from you based on what you say on this page. So it's important!
In fact, the Wordstream Blog changed up their "About Us" page and raised their conversion rates by 13%.
Just by tweaking their website's about page!
To help you spruce up your about page (or create one if you don't have one), here are a few tips and trick:
Understand your customer's problem. Your sole purpose should be to solve your customer's problem, so spend some time talking about how you help your customer instead of yourself.
Be personal! You'll want to be personal, but not too personal. In other words, give them the rundown of what your company is about, but don't give them details about what you're doing in your free time.
Insert a picture/video of your company. If you have an office, take a picture of everyone SMILING as they're hard at work. If not, ask your employees to send you a picture (or two) of them, along with a short bio.
Give a quick paragraph about your business as a whole. Talk about how (and why) you decided to get into the business you're in. Why did you create an eCommerce store from scratch? What made you realize there's more to life than the 9-5 shift? And why do you care about the work you're doing?
Talk about what makes you different. Do you offer free consultant calls? Do you drop free PDFs in your reader's email bi-weekly? Figure out your companies strengths and harness them.
Provide testimonials and reviews. Testimonials and reviews help to establish credibility. You're getting real people to show success in your products and services (without having to deliver a sales pitch).
Conclude with a CTA. If you sell them on why you're doing what you're doing, what makes you different, and how your product solves their problem, and they're almost certain to buy. Sales machine, check!
The next e-commerce website best practice, like the last two, also revolves around building trust.
4. Bake Customer Reviews Into Your Process (They Increase Sales 88%).
Customer reviews and testimonials are one of the BEST ways to increase sales to your store.
As it turns out, consumers trust online reviews just as much as personal recommendations.
So how do you get more customer reviews?
Automate the process. Any time you make a sell, send an automated email that goes out one week after their purchase (to give them enough time for shipping and to use it) that asks them to leave a review.
Reach out to past customers. If you didn't have these automated emails set up already, reach out to past customers asking for a review. Bonus points if you actually pick up the phone and call them to see what they thought (this is another e-commerce best practice that most people don't do).
Bake it into your product packaging. For example, Organifi loves connecting with their audience. They're not afraid to ask for a quick review on the bottle:
While you're at it, make sure you also take the time to respond to and amend any negative reviews. Not only do negative reviews make you feel like crap, they've also been shown to reduce conversions by 39%.
5. Make Sure Your Site Loads in Less Than 3 Seconds (Or You'll Lose 7% Conversions).
The last general e-commerce website best practice I have for you is this…
You need a fast website.The benefits of a fast store are amazing – but the drawbacks are killing your sales:
Let's say your e-commerce website is making you $1,000 per day. Even just a 1 second page delay could cost you $25,000 yearly. Yikes!
So how do you find out how long your site takes to load?
Easy – just plug it into the Ping Website Speed Test Tool.
This tool will tell you how long it takes your site to load, as well as any errors you may have and how to fix them.
Luckily, site speed is (usually) easy to amend.
While your site may have some serious internal coding errors that need a web developer to fix, the majority of speed issues can be improved by…
Optimizing all your images. As a rule of thumb, your images should be no larger than X Kilobytes (KB). While this isn't always possible, it's a good number to aim for.
Changing your hosting provider. The company that hosts your website could be the culprit for a slow loading speed. In fact, this should be the first thing you check after you've compressed your images.
Utilizing browser caching. Browser caching essentially "stores" your website on past visitors computers, so it loads faster the next time they visit your site.
Source: https://thomasgbennett.com/ecommerce-best-practices/